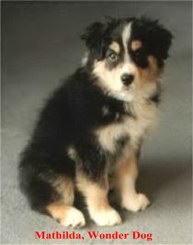 Law and its many connections -- law and literature, love, lollipops, & fun, law and everything else under the sun

Notes: 1) LawAndEverythingElse.Com & BurtLaw.Com don't solicit business for any law firm or give legal advice, other than that lawyers may be hazardous to your health. There are many more bad ones than good ones. Who can find a virtuous lawyer? Her price is far above rubies. It is easier for a camel to pass through a needle's eye than for a lawyer to inherit the Kingdom of Heaven. So saith the Lord. 2) In linking to another site or source, we don't mean to say we necessarily agree with views or ideas expressed there or to attest to the accuracy of facts set forth there. We link to other sites in order to alert you to sites, ideas, books, articles and stories that have interested us and to guide you in your pleasure-seeking, mind-expanding, heart-opening, soul-satisfying outer and inner travels.

"All persons, living and dead, are purely coincidental." - Kurt Vonnegut, Jr.

"All the news that gives judges and lawyers fits." Burton Randall Hanson

"The best way to prepare for the law is to [become] a well-read person. Thus alone can one acquire the capacity to use the English language on paper and in speech and with the habits of clear thinking which only a truly liberal education can give. No less important for a lawyer is the cultivation of the imaginative faculties by reading poetry, seeing great paintings,...and listening to great music...." Felix Frankfurter

"Every thing should be treated poetically -- law, politics, housekeeping, money. A judge and a banker drive their craft poetically as well as a dancer or a scribe....If you would write a code or logarithms or a cookbook, you cannot spare the poetic impulse...." Ralph Waldo Emerson



.
I met Justice William Douglas, the longest-serving member of the Supreme Court, when I was clerking for Justice William Brennan. Douglas struck me as cold and brusque but charismatic -- the most charismatic judge (well, the only charismatic judge) on the Court. Little did I know that this elderly gentleman (he was sixty-four when I was a law clerk) was having sex with his soon-to-be third wife in his Supreme Court office, that he was being stalked by his justifiably suspicious soon-to-be ex-wife, and that on one occasion he had to hide the wife-to-be in his closet in order to prevent the current wife from discovering her....
"The state gives you a language to speak and you can't speak outside that language or it becomes very difficult. There is no communication outside of the clichés and the jingos, 'The War on Terror,' 'Showdown With Iraq,' 'The Axis of Evil,' all of this stuff....The myth [of the glory of patriotism and war] predominates -- the myth, which is a lie, of course, built around glory, heroism, heroic self-sacrifice, the nobility of the nation. And it is a kind of intoxication. People lose individual conscience for this huge communal enterprise....We become the embodiment of light and goodness. We become the defenders of civilization, of all that is decent. We are more noble than others. We are braver than others. We are kinder and more compassionate than others -- [and] the enemy...is perfidious, dark, somewhat inhuman. We turn [our enemies] into two-dimensional figures. I think that's part of the process of linguistically dehumanizing them. And in wartime, we always turn the other into an object....The defeat in Vietnam made us a better nation and a better people. We were forced to step outside our own borders and see how other people saw us. We were forced to accept very unpleasant truths about ourselves -- our own capacity for evil. I think that that process, especially during the Reagan years, or at least that state, began to disintegrate. War once again became fun: Grenada; Panama, culminating in the Persian Gulf War. So that we're now at a process -- Freud argues that all of life, both for the individual and within human society, is a battle between Eros, or love, and Thanatos, or the death instinct. And that one of these instincts is always ascendant, at one time or another. I think after the Vietnam war, because of the terrible costs that we paid, because of the tragedy that Vietnam was, Eros was ascendant. I think after the Persian Gulf war, where we fell in love with war -- and what is war, war is death -- Thanatos is ascendant. It will, unfortunately, take that grim harvest of dead, that ultimately those that are intoxicated with war must always swallow, for us to wake up again...."